In 2022, U.S. News and World Report ranked nurse practitioner as the #1 best healthcare job, making it #2 in the 100 Best Jobs in U.S and STEM jobs. In fact, the Bureau of Labor Statistics has predicted that the employment rate of nurse practitioners would further increase by 45% this decade.
These rankings are usually concluded after a thorough analysis of the job itself. Aspects like opportunities for career development, the likelihood of work-life balance, and salary (which typically averages $78,000), are comprehensively vetted.
Altogether, this predominantly hints at a growing need for nurse practitioners in healthcare.
Now, while the job is significantly rewarding, it does take some maneuvering to land one. Hence, if you are fresh out of school or are looking to transition into NP, we have a couple of job-hunting tips for you.
Tips that will Help You Find a Nurse Practitioner Job
1. Begin Searching Early
A budding nurse practitioner will have to start their job hunt 12 – 18 months prior to completing their training. Yes, this is super early, but it will also allow you enough time to sift through multiple opportunities and workplaces before settling on one. This sets you up for career longevity because you will not jump at the first opportunity you are offered after graduating.
Your research journey will also allow you to get a feel of what the work environment and pace is often like for nurse practitioners. On top of that, you can study and strategize external factors such as living expenditures, and travel routine along with work-life compatibility.
Are you feeling perplexed about what to search and how to search for nursing profession? Dont worry, read our blog: 6 Secrets No One Tells You About Being a New Grad Nurse Practitioner to gain insights of whats actually being a nurse practitioner.
2. List Down Possible Work Settings
Become specific about WHERE you want to work. Figuring this out will have a massive impact on your job search strategy. Remember, we are planning for a first job that will retain you long-term. If you feel that a grand hospital in a big city might be too much for you then you can consider relocating to a town nearby, if you aren't already in one.
Whether you are shifting locations or staying put, make sure you are researching the region's demand for nurse practitioners. In fact, different cities/states have their own set of needs when it comes to NPs, which is why studying them would make your search process clearer.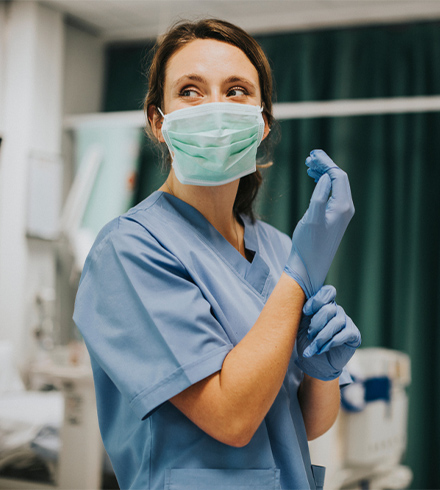 Therefore, deciding on the setting you want to work in is imperative for better search results.
To give you a quick snapshot of what we mean, we have curated a short list of settings nurse practitioners can find work:
Hospitals.
Independent physician clinics
Nursing homes and assisted living services.
Rehab centers.
Home health care facilities.
Government health agencies.
3. Work on Your Skill Set
While the "new graduate" label might be a tough hurdle for nurse practitioners, you can take this as a chance to polish your skill set. Not only will it bump up your CV, but it might also up your job search. Additionally, pursuing training and knowledge in the field after graduation will symbolize your passion for nursing – further impressing potential employers.
Pro tip: you can learn how to write a cover letter for a nursing job on our website to increase your chance of getting selected.
4. Research the Employers
Make sure to prepare for your interviews before appearing for them. A study by CareerBuilder discovered that more than half of interviewers decided on a candidate within 5 minutes of the interview.
Firstly, go through the employer's website and take a look at their vision and mission statement. Then outline ways YOUR skillset can shoulder the organization's goals and objectives while helping them get closer to achieving their vision.
Do a thorough tour of their website, and check out their press releases. They will be a great indicator of any new moves they have recently made, and read up on them. Gauge whether you can add to the developments, or how you can become a part of future activities. This will be a great indicator of your potential for research and responsibility-taking, which is a plus point for any recruiter.
5. Apply for a License to Practice
Once you have passed your board exams you can successfully apply for a license in your state. This is a significant step in every nurse practitioner's career. This is why we highly recommend you consult your State Board of Nursing, before pursuing a license. While this will, certainly, be a lengthy process, it will legally equip you to work.
However, a bonus point we would like to mention is that some states allow individuals to work as an NP, under the supervision of a doctor. This will make for a shining CV, that will certainly help impress the recruiter, and prevent you from wasting your time as you go through the certification process.
6. Understand How to Look for the Right Fit
The internet is filled with mountains of job vacancies in the healthcare sector. That is not the problem. The real issue arises in looking for a healthcare job specific to YOU. Many job application and recruitment websites do not allow recruiters to be specific about the jobs they are advertising. This makes it incredibly difficult for employers to find the right talent and candidates to find the right jobs.
Applications like Healthcare Talent Link (HCTL) play a major role in bridging this massive gap between recruiters and job seekers. Here you can take advantage of the king-sized filter system to get really specific about the job ads you want to come across.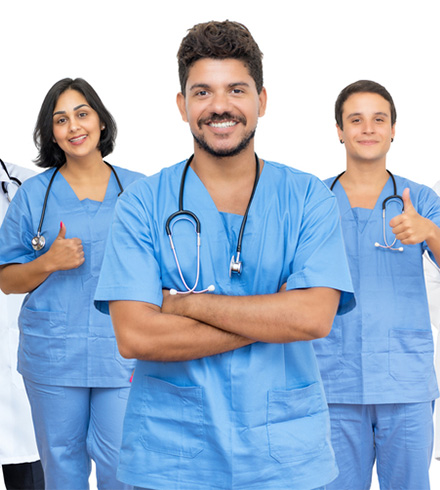 7. Network as Much as You Can!
Almost every job seeker has to network, even healthcare professionals. But the good news is that the benefits of networking are multi-fold. Not only will you be made privy to available job opportunities that are perfect for you, but in fact become a part of an NP community that can support and advise each other from time to time.
National, regional, and local conferences and conventions are some of the best places to come across professionals who are in the same place, career-wise, as you. Online communities and forums are a great, cost-effective way to meet like-minded people as well.
8. Understand the Recruiter's Perspective
Looking at your job search through the lens of your own needs can be myopic and might rupture your chances of success. Flipping the script, a little bit and looking at things from the employer's perspective can put you at the forefront of the competition. Thoroughly, analyze the job advertisements, and see how you fit the bill. During the interview, make sure to take excerpts from the job advertisement and link them to your skills. This will help the lawyers link you to the job itself making you look like the best fit for the job.
9. Have a Good Follow-Up Routine
After the end of your interview make sure you maintain positive momentum and show continued interest. When asking for an update make sure to start off by expressing your gratitude for their consideration, before inquiring about their final decision.
10. Ask for Professional Feedback
Interviewing for job does not come naturally to anyone. However, you can always get better at it to increase your chances of getting hired the next time. Hence, don't let a rejection discourage you from moving on and up. In fact, you can ask the interviewer for feedback on where you can improve for better luck in the next round of interviews.
The Bottom Line
Nurse practitioners can be an incredibly gratifying and well-paying job on many levels. However, as with every healthcare position finding the right NP vacancy can be difficult to come across. This is especially true for new NP entrants in the job market, who might not know where to start looking, wasting a lot of precious time in the process. This attempts to simplify the process a little bit, and help introduce some pointers for ambitious candidates to make their job search easier.
HealthCareTalentLink, being healthcare industry's first-ever professional platform aims to link the diverse healthcare community with talent, products, and services. At HCTL, whether you are a fresh NP or an experienced professional, you're welcome to sign-up and excel in your career.