Technology has influenced global aspects in recent years. Every field, from transportation, communication, and manufacturing to medical and pharmaceutical companies, has transformed digitally. Like every other industry, information technology in the pharmaceutical industry offers its perks. Today, its professionals and organizations are eager to pursue the best pharmaceutical information technology innovations to alleviate their daily work program.
Health information technology has enabled pharmaceutical professionals, including pharmacists, quality assurance and R&D managers, and even recruiters, to handle complex tasks promptly. Hence, it is true that the advancement in information technology in the pharmaceutical industry has the potential to deliver services to a heap of people in a less monotonous and more customized way.
How are Pharmaceutical Companies Using Health Information Technology?
The healthcare industry is witnessing a surplus demand for its professionals, technologies, and innovations. Therefore, the sub-industries in the healthcare realm are diligent in improving the quality and quantity of their products and services. Since the pharmaceutical industry is responsible for delivering life-saving drugs, it has to remain at par with modern technology. Information technology in the pharmaceutical industry has helped organizations like drug manufacturers and R&D companies to hire efficiently. By hiring efficiently, organizations work with a talented workforce that helps produce quality drugs and other therapies.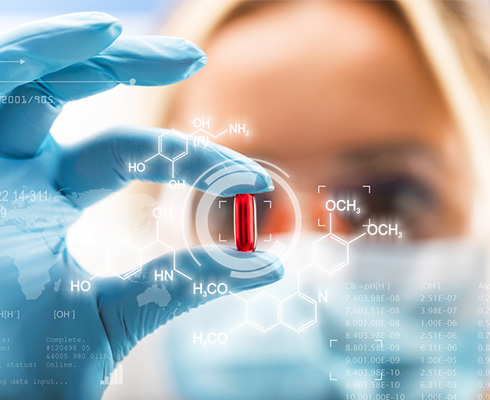 Astonishingly, Information technology in the pharmaceutical industry has experienced significant growth in recent years. As of late 2021, the total global pharmaceutical market evaluation was about 1.42 trillion USD. It is a considerable increase from 2001 when the market value was only 390 billion USD.
The pharmaceutical sector is inventing and improving drugs and their distribution. Health information technology aid this industry in so many ways. Let's discuss what technology can do further in the pharmaceutical industry.
Deliver a better patient experience
Innovative technologies in the pharmaceutical industry can build better customer relations between the company and customers. Aligning company goals with a customer-oriented approach and its implementation becomes possible with information technology, resulting in a significant increase in brand loyalty among its customers.
Spread more information online
People prefer online access to almost everything, and the same is for medication information and data. When patients are more educated about their drug regimen, the possible side effects, and interactions, they are more compliant with their medications. As a result, physicians witness better patient outcomes and better recovery time.
Remain competitive
On the other end of the spectrum, information technology in the pharmaceutical industry also enables companies to stay competitive. Like other big tech-savvy companies, pharmaceutical industries leverage health information technology to remain ahead in hiring talent. Furthermore, technology also facilitates organizations to research and develop modern solutions to conventional health concerns. For instance, improvements in drug delivery systems have led to immediate-release, extended-release, and sustained-release drugs. 
Furthermore, information technology in the pharmaceutical industry has also led to the discovery and development of wearable tracking devices. Such devices help patients monitor their daily health through accessories such as watches and rings.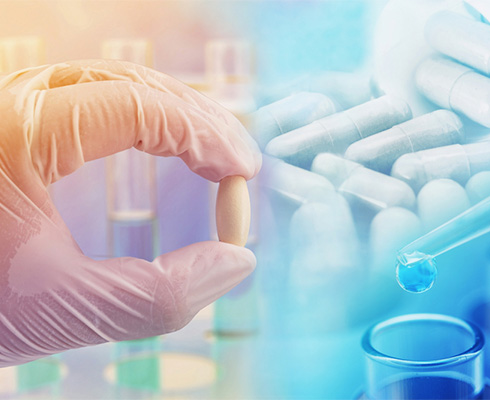 Solve the counterfeiting issue
It is much more difficult to detect fraudulent medicines without implementing information technology in the pharmaceutical industry. Today, checking the authenticity of medicine is as simple as scanning a barcode.
Enhance drug development
Artificial Intelligence can rapidly increase the production of drugs and their effectiveness with the assistance of its enormous database. Pharmaceutical industries leverage AI power to enhance expensive drug development processes and are beneficial in producing medicines that are best suited for different diseases.
Top Trends in Pharmaceutical Information Technology
Health information technology has paved the way for various innovative trends in the pharmaceutical industry. Here, we will discuss these trends that have been a game-changer for the sector.
1.  Artificial intelligence and machine learning
Artificial intelligence in the healthcare sector is becoming prominent with every passing day. The global AI healthcare market is forecasted to reach 31.3 billion USD by 2025. It will become an instant annual increase of more than 40%.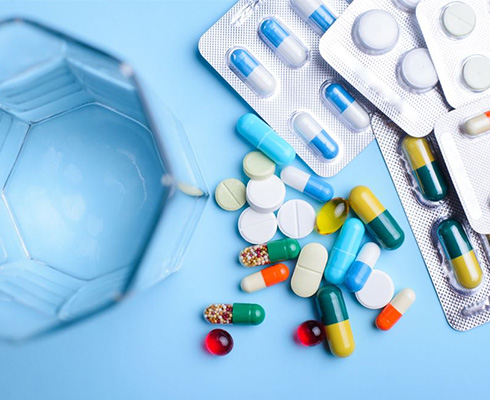 The conventional drug development process is now replaced with advanced machine-aided development processes. Machine-aided drug manufacturing processes not only speed up the production process but also enhance the success rate of the designed drug. Machine learning and its data analysis and forecasting possibilities will continue to benefit the pharmaceutical industry.
2. Digital therapeutics
Digital therapeutics is a subset of digital health. It can treat a disorder or disease with the help of evidence-based therapeutic interventions driven by exceptional software programs. Two widely practiced examples of digital therapy available in the market are reSET-O and Sleepio.
3. Cloud technologies data
Cloud technology allows the pharmaceutical industry to work more efficiently. Cloud computing technology allows accessing digital resources stored in a virtual place. Health information technology makes the most use of cloud computing for storing massive patient data.
4. Big Data
Another remarkable trend in pharmaceutical information technology is the use of big data. Pharmaceutical companies can extract significant profits by analyzing these data sets. Another benefit of big data is it can produce drugs with more intended effects, which eases more scientific discoveries in pharmacology. It also creates an opportunity to deliver personalized medicines by studying genomic data. It also facilitates pharmaceutical companies in cutting their cost of production by analyzing metrics such as the cost of ingredients, production process cost, and overall spending.
5. Digital training
According to the chief information officer at Novartis, up-skilling the current employees and new talent will help the pharmaceutical sector match the pace with its technological development.
Making employees aware of the technology is vital for any industry, including pharmaceuticals. This way, companies can speed up their process. Digital training helps pharmacists to become more familiar with the latest and advanced innovations.
6. Precision medicine
Precision medicine is taking baby steps in the pharmaceutical industry. Precision medicine offers a unique approach to diagnosing, managing, and treating diseases by studying the genes and lifestyle of the patient. By 2024, the precision market will estimate at around 96.6 billion USD. This progress is because of the popularity of bioinformatics, which enables pharmacists to analyze data and tailor-make treatment plans.
7. Blockchain technology
The blockchain trend in health information technology can aid speeds up digitalization across the pharmaceutical industry. This industry faces tremendous challenges like transparency, lack of trust, production of counterfeit medicines outside legitimate systems, and distribution of expired drugs. Blockchain technology rescues pharmaceutical companies from these issues. Among the significant advantages of blockchain technology, is it limits the contract and transaction that was previously added to the ledger unchangeable. Therefore, blockchain applies to verify procedures and records to combat counterfeit medicines and their distribution.
The Role of Pharmaceutical Information Technology in Research and Development
Information technology plays a commendable role in advanced and extensive research and development in the pharmaceutical industry. Some of its contributions are listed below:
Research and development in the pharmaceutical industry involve much cost and capital. Information Technology in the pharmaceutical industry has reached a point where it plays a significant role in reducing the cost involved in the R&D process.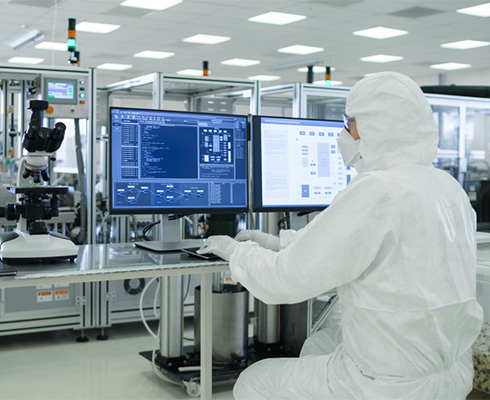 Leveraging the power of information technology in the pharmaceutical industry, the virtualization of some research and development processes is potentially possible now.  It alleviates the need to physically handle the chemicals, resulting in faster and cheaper experiments.

Storing and organizing an enormous amount of data is crucial in pharmaceutical research and development. Information technology in the pharmaceutical industry can keep and arrange the data in such a way that eases retrieval, collaboration, and sharing of this data.

Information Technology enables the concerned individuals in the research and development process to fastly and effectively communicate with each other working on the same project.
The Role of Information Technology in the Pharmaceutical Industry: Battling Hiring Shortage
It is imperative for the pharmaceutical industry to hire a resourceful workforce, to continue introducing better drug innovations.
The pharmaceutical industry has faced multiple hurdles, exacerbated by the ongoing skill shortage and staffing in pharmaceutical manufacturing enterprises. As demand increases, there observe a decrease in the number of job candidates. It highly affects the rapid production of safe and effective medicines. Although, the pharmaceutical market is tightly regulated and has no margin for mistakes.
The National Association of Manufacturers (NAM) predicts in one of their reports that between 2023 and 2024 U.S. labor pool will only grow 0.2% per year. Left uncurbed, the problem of having a disappropriate number of jobs compared to qualified candidates could have an overwhelming impact on the economy. The 2021 Deloitte and NAM talent study report evaluates that we could reach 2031 with 2.1 million vacant manufacturing jobs. Furthermore, that year alone, the skill and talent shortages will cost the United States economy $1 trillion.
Leveraging IT for Efficient Recruiting in Pharmaceutical Industry
It is crucial to understand if things come under control today, these numbers will never become a reality. Keeping the whole dilemma in mind and accepting that this could take time to resolve is a wise approach. However, the most effective way to follow is to adopt advanced hiring solutions with emerging health information technology trends. Since the conventional approach to recruiting rely heavily on manual processes is no longer sustainable, it's inevitable for industries to run out of valuable human resources.
The pharmaceutical industry needs to apply a modern approach and system that produce efficiencies for people so they can make the most of their productivity in less time. Digitalization in the pharmaceutical industry is a viable solution to retain and engage employees. The strategy is also beneficial in attracting tech-savvy talent to meet increasing demand.
Wrap-Up
By adopting information technology in pharmaceutical systems, the industry can streamline;
Effective and inexpensive production processes.
Combat counterfeit medicines.
Leverage AI and computer-aided research and development.
Overcome tech-savvy talent shortage and meet the ever-increasing demand for efficient life-saving drug development.
Health Information Technology is undoubtedly an essential investment in today's pharmaceutical industry. It is a professional platform that bridges the gap between healthcare organizations, talent, and the community. This digital hub enables recruiters to advertise their proposals on the search engine through remunerative SEO strategies. As a first-ever professional healthcare talent hub, we believe in fostering a long-term relationship that ultimately helps the healthcare community transitions through various career stages.